Are you considering the path of becoming a marketer? Do you think you have the potential to convince people to buy certain products? One of the best ways to market on the internet is to join a coffee affiliate program. In this marketing model, you promote, advertise, and help sell the products of various companies.
One of the unique niches to promote is coffee. Half of the US population consumes some form of coffee every single day. If you take coffee lovers of the US in specific, they are enjoying more than three cups of coffee on any given day. Imagine, how many people drink coffee around the world!
You can promote the products of various coffee companies through coffee affiliate programs and earn commissions. The best thing about a coffee affiliate program is that there is no explanation needed from you to explain the product – everyone knows what coffee is.
Does It Make Sense to Promote Coffee?
Is selling coffee the right niche as an affiliate marketer? A simple answer would be yes.
Coffee consumption in the United States only amounted to nearly 26.5 million 60-kilogram bags in the last year. But Americans aren't truly coffee lovers! The gathered data below can be extremely beneficial to anyone wishing to start a business related to coffee.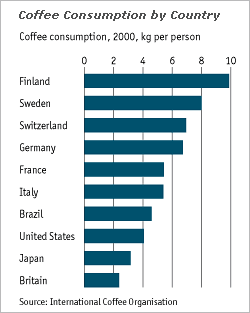 What makes this niche even more appealing for affiliate marketers is the fact that more and more people are interested in brewing coffee at home. In 2017, 75% of the people prepared their coffee at home. In 2018, on the other hand, the percentage of the same people increased to 79%.
But what exactly are they searching for?
This niche is a bit seasonal, but a good think about coffee is that people need to make repeat purchases. People drink coffee every day and they ready to spend money on this product.
| | |
| --- | --- |
| Keyword | Avg. monthly searches |
| coffee | 1M – 10M |
| espresso | 100K – 1M |
| ground coffee | 10K – 100K |
| coffee beans online | 1K – 10K |
| coffee gifts | 10K – 100K |
| hazelnut coffee | 1K – 10K |
| best ground coffee | 1K – 10K |
| french vanilla coffee | 1K – 10K |
| best coffee brand | 1K – 10K |
Of course, if you choose some keywords like "ground coffee" or "espresso", there will be high competition. The keywords such as "french vanilla coffee" or "hazelnut coffee" have lower competition and it will be easier to rank your website in top 10.
Let's review the best coffee affiliate programs one by one now.
The Best Coffee Affiliate Programs
This is one of the best programs you can join today, mainly because it serves the best coffee niche by tying coffee sales with humanitarian causes. The net income generated by the company by selling the coffee goes into efforts of providing people all over the world with clean water to drink. By signing up with them, you can offer not only coffee but coffee combos as well. By joining their program, you will be able to promote only the premium quality coffee to the consumers. Another amazing thing is that their coffee beans are the world-renowned Arabica beans.
Commission: For every successful sale, you earn a commission of 12%. Their average sale is between $20 and $25.
Cookie: unknown
Their main product is capsules that are used in coffee making through Nespresso machines. In short, your target audience will be people who own the Nespresso machines. Their capsules are affordably priced without a doubt. Furthermore, they have quite a few blends that can be extremely attractive for daily coffee consumers. Since the company is always expanding the range of its products and flavors, you will always have something to talk about with your customers as an affiliate marketer. You can join the affiliate program without paying anything.
Commission: Make a sale and get 20% commission on it.
Cookie: Stays active for a month
Some of the best coffee beans come from the land of Hawaii. Hawaii Coffee Company can offer you a variety of benefits over other affiliate programs. With this company, you have many different products to sell. Whether you want to sell coffee pods or coffee beans, you will find something to sell with Hawaii Coffee Company. The best product that you can sell with this program is Kona Coffee, which is known around the world for its texture and flavor. You can also sell products other than coffee with this affiliate program. The antioxidant-rich coffee is a completely different yet lucrative coffee niche.
Commission: Get 20% commission on every sale.
Cookie: Stays active for 45 days
If you think you can highlight the best things about various coffee flavors, this might be the best coffee affiliate program for you to join. When you enroll in this program, you have more than 100 different coffee flavors to promote. Their flavors are quite affordable to selling in bulk quantities should not be difficult for you. Keep in mind that they can deliver their products to just about any corner of the world. This means you can promote them in the country of your choice without any hesitation.
Commission: For every successful sale, you will earn 13% commission.
Cookie: Stays active for 14 days
This is not really a coffee affiliate program, but you can definitely sell these products to those who drink coffee and are health-conscious at the same time. The company offers health proteins in many different packings and flavors. These proteins can be added to chocolate drinks, smoothies, teas, and of course, coffees. If you run a blog for health conscious people, you can easily promote these products to your readers. You can join this program for free and enjoy benefits like having an affiliate manager by your side.
Commission: Make 10% commission on sales.
Cookie: Stays active for 30 days
You have a lot of points to sell the products from Café Britt to potential customers. The best market to promote Café Britt is people who are picky about their coffee beans and can't compromise on the quality of the product they get. Café Britt not only harvests the beans in the country of origin but it also roasts them there. When someone orders coffee from Café Britt, they are most likely to receive the package from the same country where the coffee was produced. They sell many products in addition to coffee. An amazing and attractive product you can sell with this program is chocolate covered coffee.
Commission: There is no information on the site.
Cookie: Cookie remains active for 30 days
Volcanica products are the easiest to sell as an affiliate if you understand the very needs of the coffee drinkers. When it comes to passionate coffee drinkers who take flavor and texture seriously, you need to sell them the coffee beans, not the coffee itself. You have to assure them that the coffee beans they will receive are special, fresh, accurately roasted, and produced in the best of conditions. So, when you sign up with this program, you will have to sell the freshness to your potential customers. The company packs the beans for the customers as soon as an order is received. What a customer receives is the freshest beans he/she can possibly get by ordering online.
Commission: 15% on each sale in the first 45 days of signup. 10% on each sale after 45 days are over
Earn 1% commission on every returning customer
Cookie: Stays active for 30 days
Once again, if you are someone who likes to sell quality coffee beans to the quality lovers, you would love to join this program. Koa Coffee Company produces one of the best Kona coffees in the industry. The high quality of the beans comes from the fact that the company picks every bean professionally. You can promote ground coffee as well as whole coffee beans in this program. When selling the Kona coffee from Koa, you will have the advantage of pitching the many awards the company has won for its quality over the course of many years. They have one of the best affiliate programs you can find.
You don't lose the commission you make on your sale if the customer returns the product. The company is very sure about its quality of products and proud of the fact that its returns are nearly zero percent. You can always cite the Koa Coffee reviews when convincing your customers to buy the product because of how positive they are.
Commission: 20% commission on a successful sale.
Cookie: Stays active for 90 days.
Conclusion
If you browse on the internet, you will find hundreds of other coffee affiliate programs. However, these are some of the best and highest paying affiliate programs you can find.
If one best program were to be picked, it had to be the Koa coffee affiliate program. It is the best for its cookie period, the commission, and the fact that you don't lose your commissions on returns. The other two great programs that you should be considering are the Volcanica affiliate program and the Hawaii Coffee Company program. These companies sell the finest quality coffee beans and have quite a reputation in the industry to bank on when it comes to selling.
So, go ahead and pick the best coffee affiliate program, make money, and let the world enjoy the highest quality of coffee with your help.